"A pace of Journey to learn to explore the world."
ఈ ప్రపంచంలో ప్రతి ప్రాంతానికి ఒక ప్రత్యేకత ఉంది. ఈ విశాల విశ్వంలో మన మాతృభూమి భారతదేశంలో తెలంగాణ రాష్ట్రం, నిజామాబాద్ జిల్లాలోని వేల్పూర్ నా జన్మస్థలం "దేశానికి పట్టుకొమ్మలు మన గ్రామాలు", ఆత్మీయ పలకరింపులు మన గ్రామాల సమైక్యత సందేశాలు
10-07-1959 నేను జన్మించాను. మా అమ్మానాన్నలు తాయారమ్మ, నర్సింహాచార్య మాది. చాలా పేద కుటుంబం. నేను ఒక్కడే కొడుకుని
మా ఇంట్లోనే మా అమ్మానాన్నలు కలిసి ఇంట్లో ఉన్న పశువుల పాకలో బడి నడిపేవారు. ఊర్లో ఉన్న సుమారు 45 శాతం పిల్లలు మా ఇంట్లోనే విద్య నేర్చుకొని వారి శక్తిసామర్థ్యాల మేరకు మహోన్నత స్థాయికి ఎదిగిన వారే.
రాత్రి సమయంలో వయోజనులు కొంతమంది చదువు నేర్చుకోవడం కోసం వచ్చేవారు మా ఉన్నత జిల్లా పరిషత్ పాఠశాల దగ్గర ఉన్న బబ్బూరు రాజన్న గారి ఇంట్లో మిద్దెపై వయోజనులకు విద్య చెప్పేవాడు. అది వారందరూ కలిసి ప్రేమతో నాన్నగారి దగ్గర చదువు నేర్చుకున్న వారు ఎంతో మంది ఉన్నారు.
MS. Acharya Founder & Chairman
The largest Ball Point Pen expresses view
As a teacher, the thoughts of teaching and helping all the children learn and see them achieve greater heights in life has always been my passion. Though I retired as a teacher from ZPHS Sunket, Morthad Mandal, on 31st July 2017, my intention and interest in promoting stress free learning environments to students is what always drives me to research, promote, and implement new learning techniques in teaching. I strongly believe that students should never be pressurized on learning. Stress-free learning and freedom of expression promotes creativity in students and help them do wonders.
Therefore, I created the largest ball point pen, which promotes building a constructive and progressive world with the collective creative thoughts of all children. On April 24th, 2011, we have released our first ever innovative work, "The LARGEST BALL POINT PEN in the WORLD" in Andhra Pradesh, India. The pen is unique, made of Brass, and is of 18.04 feet in length, 3.44 feet in width and weighs 37.232 kilograms. The rich Indian culture, arts, and musical instruments are embedded upon it. The pen is named as "VISHWAPALLAKI", as it symbolizes the National Integrity
I poured my heart and soul into making this pen, Vishwa Alli. The pen won the greatest Guinness Book of World Record. We have inscribed several valuable words, arts, cultural heritage of our country on VISHWAPALLAKI, to promote freedom and creativity. Some of them include: Bharata Natyam Kathakali Yaksha Ganam. Manipuri Mohini Attam Odassi Kuchipidi. Kathak. Chu (West Bengal)
My efforts in research on learning and education, have earned me several honors and awards such as, Guinness Book of World Records, World Amazing record, Wonder record, RHT record Indian book of record, Telugu book of record, Ekaveera book record, and Nobel World record.
I feel proud to be contributing and promoting to Indian culture, arts, learning and education, through my research work. With my love for teaching, promoting creativity in students, and great respect for my mother tongue for Telugu and this country, I promise that I would come up with more and more innovative concepts that help citizen of India, know our rich Indian cultures and native languages
In my research system I honoured awards and rewards by
In my research system I honoured awards and rewards by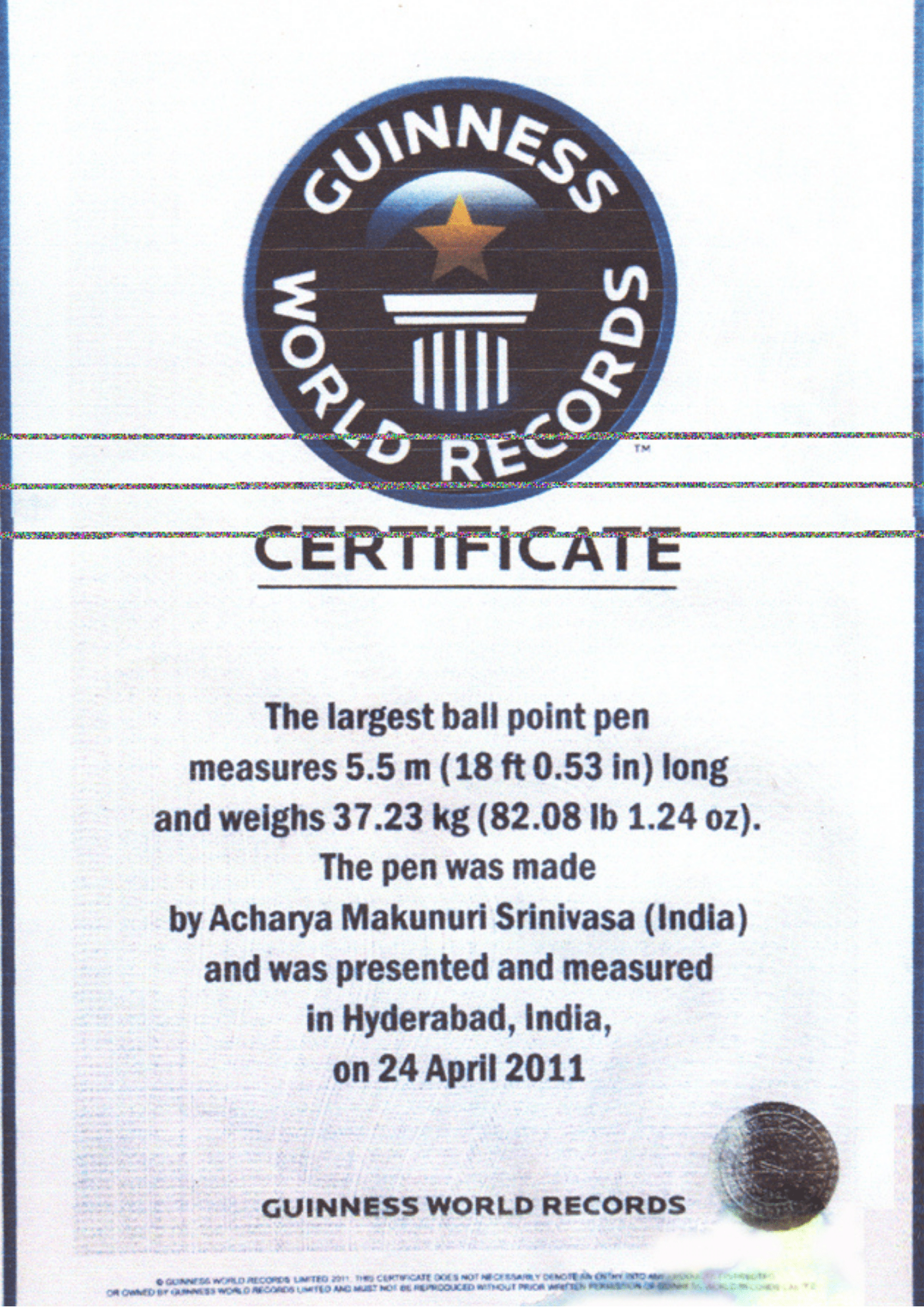 Guiness world Record Book.